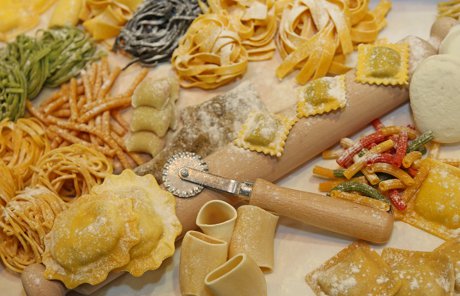 A bit of Italian history and love of family can be found mixed in the food at Mama Terano near Rolling Hills homes. Like all beloved Italian grandmothers Mama put her heart into her cooking and her traditional recipes fill the menu along with some creative additions by her family members. After one taste it's obvious the chefs at Mama Terano know their Italian cuisine.
Those who live in Rolling Hills and stop in for lunch have a variety of salads, subs and paninis to choose from. Local favorites are the chicken and artichoke salad, eggplant parmesan sub and hot turkey panini.
Pasta please! Delightful pasta dishes are the specialties here. Rigatoni is mixed with prosciutto, mushrooms, gorgonzola and walnuts. Linguini and clams are smothered with white wine, lemon and garlic. Lasagna and eggplant parmesan bubble with rich flavors and will have customers coming back for more. The entree menu is also very inspired with Ahi tuna, pork Milanese, and beef shortribs.
Families that live in Rolling Hills can sit down to Sunday dinner without all the fuss. Guests at Mama Terano Sunday Supper can enjoy the closeness and camaraderie of a big, boisterous meal without all the cooking and clean up. Sunday menus vary each week and will have a selection of antipasti, pasta, salad, two courses of either fish, lamb or chicken and dessert. Sunday dinner is served from 4:30 to 7:30 p.m. Reservations are recommended and may be made by calling 310.377.5757.